The ATLAS Team are pleased to announce that we are attending the PGL CS:GO Major in Antwerp, Belgium at the Sportpaleis!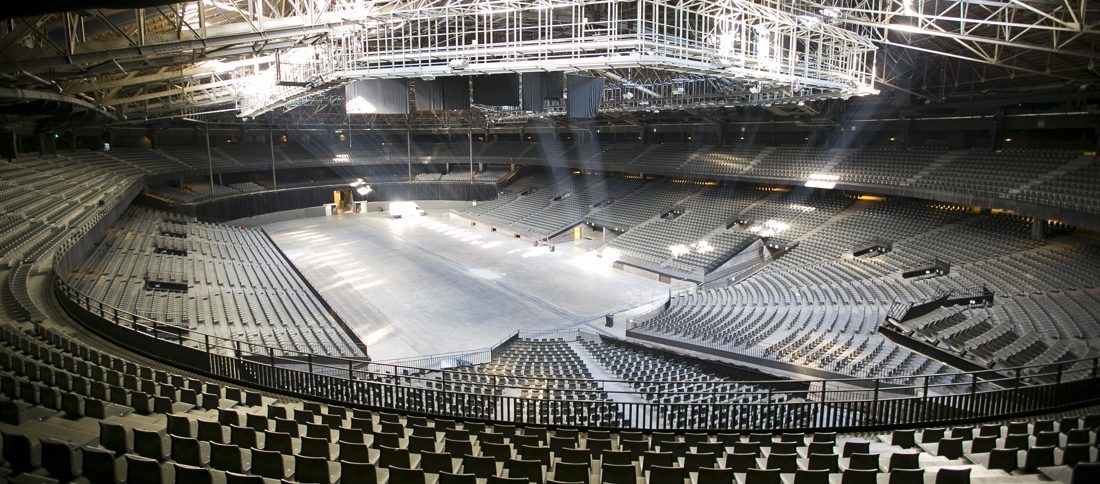 We will be attending the event from the Thursday (19th of May) all the way to the Grand Final on the Sunday ( 22nd of May) We will be attending the event from a press perspective covering all events and detail all the action that happens over the event!
We as a team are super excited to have the privilege of covering this event and are looking forward to it and counting down the days until the PGL Major officially starts on the 9th of May for the Challengers Stage of the tournament.
---
The teams attending the major were officially confirmed following the completion of the Regional Major Rankings tournaments that were held in Romania the finalised teams list is as follows:
Legends Stage
FaZe: IGL: Finn "Karrigan" Andersen AWPer: Helvijs "broky" Saukants Rifler: Russel "Twistzz" Van Dulken Rifler: Håvard "rain" Nygaard Rifler: Robin "ropz" Kool Coach: Robert "RobbaN" Dahlström
Natus Vinere (NAVI): IGL: Kirill "Boombl4" Mikhailov AWPer: Oleksandr "s1mple" Kostyliev Rifler: Denis "electroNic" Sharipov Rifler: Ilya "Perfecto" Zalutskiy Rifler: Valerii "b1t" Vakhovskyi Coach: Andrii "B1ad3" Horodenskyi
Cloud9: IGL: Vladislav "nafany" Gorshkov AWPer: Dmitriy "sh1ro" Sokolov Rifler: Timofey "interz" Yakushin Rifler: Sergey "Ax1Le" Rykhtorov Rifler: Abai "HObbit" Hasenov Coach: Konstantin "groove" Pikiner
Heroic: IGL/AWPer: Casper "You can't win Pro League like this cadiaN" Møller Rifler/AWPer: Martin "stavn" Lund Rifler: René "TeSeS" Madsen Rifler: Ismail "refrezh" Ali Rifler: Rasmus "sjuush" Beck Coach: Richard "Xizt" Landström
NiP: IGL: Hampus "hampus" Poser Stand-In AWPer/Rifler: Patrick "es3tag" Hansen  Rifler: Fredrik "REZ" Sterner Rifler: Nicolas "Plopski" Gonzalez Zamora Rifler: Ludvig "Brollan" Brolin Coach: Daniel "djL" Narancic
FURIA: IGL: Andrei "arT" Piovezan AWPer: Rafael "saffee" Costa Rifler: Yuri "yuurih" Boian Rifler: Kaike "KSCERATO" Cerato Rifler: André "drop" Abreu Coach: Nicholas "guerri" Nogueira
BIG: IGL: Johannes "tabseN" Wodarz AWPer: Florian "syrsoN" Rische Rifler: Tizian "tiziaN" Feldbusch Rifler: Josef "faveN" Baumann Rifler: Karim "Krimbo" Moussa Coach: Niclas "enkay J" Krumhorn
Copenhagen Flames: IGL: Rasmus "HooXi" Nielsen AWPer: Nico "nicoodoz" Tamjid Rifler: Jakob "Jabbi" Nygaard Rifler: Fredrik "roeJ" Jørgensen Rifler: Rasmus "Zyphon" Nordfoss Coach: Daniel "vorborg" Vorborg
Challengers Stage
Challengers:
G2 Esports: IGL: Aleksi "Aleksib" Virolainen AWPer: Ilya "m0NESY" Osipov Rifler: Nikola "NiKo" Kovač Rifler: Nemanja "huNter-" Kovač Rifler: Audric "JACKZ" Jug Coach: Rémy "XTQZZZ" Quoniam
ENCE: IGL: Marco "Snappi" Pfeiffer AWPer: Aleksander "hades" Miskiewicz Rifler: Lotan "Spinx" Giladi Rifler: Paweł "dycha" Dycha Rifler: Pavle "maden" Bošković Coach: Eetu "sAw" Saha
Astralis: IGL: Lukas "gla1ve" Rossander AWPer: Asger "farlig" Jensen Rifler: Andreas "Xyp9x" Højsleth Rifler: Kristian "k0nfig" Wienecke Rifler: Benjamin "blameF" Bremer Coach: Martin "trace" Heldt
Vitality: IGL: Dan "apEX" Madesclaire AWPer: Mathieu "ZywOo" Herbaut Rifler: Kévin "misutaaa" Rabier Rifler: Peter "dupreeh" Rasmussen Rifler: Emil "Magisk" Reif Coach: Danny "zonic" Sørensen
MIBR: IGL/AWPer: Adriano "WOOD7" Cerato Rifler: Marcelo "chelo" Cespedes Rifler: Raphael "exit" Lacerda Rifler: Matheus "Tuurtle" Anhaia Rifler: Jhonatan "JOTA" Willian Coach: Bruno "bit" Lima
forZe: IGL: Andrey "Jerry" Mekhryakov AWPer: Aleksandr "zorte" Zagodyrenko Rifler: Aleksandr "KENSI" Gurkin Rifler: Aleksandr "shalfey" Marenov Rifler: Evgeniy "Norwi" Ermolin Coach: Artem "Fierce" Ivanov
Imperial IGL/AWPer: Gabriel "FalleN" Toledo Rifler: Fernando "fer" Alvarenga Rifler: Lincoln "fnx" Lau Rifler: Ricardo "boltz" Prass Rifler: Vinicius "VINI" Figueiredo Coach: Luis "peacemaker" Tadeu
Bad News Eagles: IGL: Dionis "sinnopsyy" Budeci AWPer: Genc "gxx-" Kolgeci Rifler: Sener "SENER1" Mahmuti Rifler: Flatron "juanflatroo" Halimi Rifler: Rigon "rigoN" Gashi Coach: Klesti "stikle-" Kola
Outsiders: IGL/AWPer: Dzhami "Jame" Ali Rifler: Timur "buster" Tulepov Rifler: Aleksei "Qikert" Golubev Rifler: Mareks "YEKINDAR" Gaļinskis Rifler: Evgeniy "FL1T" Lebedev Coach: Dastan "dastan" Aqbaev
Liquid: IGL: Nicholas "nitr0" Cannella AWPer: Joshua "oSee" Ohm Rifler: Keith "NAF" Markovic Rifler: Jonathan "EliGE" Jablonowski Rifler: Richard "shox" Papillon Coach: Eric "adreN" Hoag
Complexity: IGL: Ioannis 'Johnny' "JT" Theodosiou AWPer: Paytyn "junior" Johnson Rifler: Ricky "floppy" Kemery Rifler: Justin "FaNg" Coakley Rifler: Michael "Grim" Wince Coach: Tiaan "T.c" Coertzen
9z: IGL: Maximiliano "max" Gonzalez AWPer/Rifler: Luca "Luken" Nadotti Rifler: Franco "dgt" Garcia Rifler: Martin "rox" Molina Rifler: David "dav1d" Tapia Maldonado Coach: Rafael "zakk" Fernandes
Spirit: IGL: Leonid "chopper" Vishnyakov AWPer: Abdulkhalik "degster" Gasanov Rifler: Boris "magixx" Vorobyev Rifler: Robert "Patsi" Isyanov Rifler: Pavel "s1ren" Ogloblin Coach: Sergey "hally" Shavayev
Eternal Fire: IGL: Özgür "woxic" Eker AWPer/Rifler: Ömer "imoRR" Karataş Rifler: İsmailсan "XANTARES" Dörtkardeş Rifler: Buğra "Calyx" Arkın Rifler: Yasin "xfl0ud" Koç Coach: Timur "bishop" Şengül
IHC Esports: IGL: Byambasuren "bLitz" Garidmagnai AWPer: Yesuntumur "nin9" Gantulga Rifler: Tengis "sk0R" Batjargal Rifler: Munkhbold "Techno4K" Sodbayar Rifler: Bat-Enkh "kabal" Batbayar Coach: Erdenedalai "maaRaa" Bayanbat
Renegades: IGL: Joshua "INS" Potter AWPer: Alistair "aliStair" Johnston Rifler: Simon "Sico" Williams Rifler: Jordan "Hatz" Bajic Rifler: Jay "Liazz" Tregillgas Coach: David "Kingfisher" Kingsford
---
And that concludes the team list for the PGL Antwerp Major commencing on the 9th of May 2022.
A few of our picks for teams to watch out for on this major are as follows:
Cloud9: After recently being signed to a new order the former roster known as "Players" and before that "Gambit" are yet to prove themselves on LAN, after showing very dominant displays during the online era of Counter-Strike. The team have been warming up though showing a decent performance through the RMR event qualifying 3-0 after beating Astralis 2-1 to qualify. They also put up a decent performance at ESL Pro league season 15 losing to world number 1's FaZe Clan 2-1 I fully believe some of the issues we saw with the team in that FaZe match will have been accounted for and amended for the major.
FaZe: Currently ranked world number 1 on HLTV rankings its no surprise to see faze on our list of teams to watch out for at the PGL major, will Karrigan finally get his major crown? or will we see a repeat of Boston 2018 against Cloud9 where they failed to close down the final map of Inferno. We are certainly excited to see if the addition of Ropz can continue to bring success to this FaZe roster.
Astralis: Now until recently Astralis would have been a very left field pick but with Alexander "ave" Holdt stepping down as coach and Martin "trace" Heldt stepping in just before the start of the Major RMR's we've since seen a bit of a revitalised Astralis, starting to look a little like their old selves in 2018 and 2019 albeit with a very different looking core, the removal of Lucky and addition of Farlig as their primary AWPer things have only been getting better for the most successful team in the history of Counter-Strike. Then again this pick might just be me being slightly biased #ToTheStars
ENCE: Now we all remember Katowice 2019 where ENCE had a dream run and the Ez4Ence memes were at their peak but going into this Major with Snappi as their IGL ENCE have been looking really solid, surely they have to go fairly far in this major being ESL Pro League season 15 finalists and recently beating Astralis 2-1 after taking a brutal 16-3 loss on their first map of Mirage to advance to the Blast Spring Showdown, this showed huge resiliency to bounce back. Surely we should be seeing more of the Ez4Ence meme this year? Plus I really want an ENCE Major Champion Cushion! :)
And that Concludes our roundup of the PGL Antwerp Major so far. We have just 4 more days to wait until the start of the major where it kicks of with Vitality vs Complexity and Bad News Eagles vs Eternal Fire at 11am GMT on Monday the 9th of May and we are super excited for it all to get started. We will see you all in Belgium when the major moves to Antwerps Sportpaleis on the 19th of May.
See you all there!